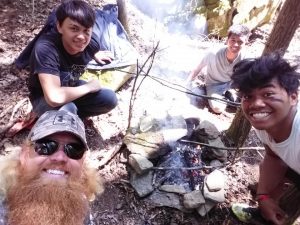 Become Survival Warrior Certified! Our weekend Warrior Course starts on 1pm. We head out to the Ocala National Forest and spend the first two nights in the wilderness. We return on the Third day in the afternoon.
October 29-31
November 19-21
November 26 - 28
December 10-12
NEW YEAR ADVENTURE - December 31 to January 02, 2022
January 21-23
January 28-30
February 4-6
March 25-27
April 1 - 3
4-day river adventure
December 26-29
March 15-18
Advanced course, contact us for info and dates...
During this course, you will learn:
How to build a shelter out of natural materials
How to make fire with primitive tools (sticks)
How to identify edible plant life
How to find and purify water
How to signal for rescue
Thermoregulation
Basic Bushcrafting
Once you have been accepted for the class, each student will be given a gear list from the school. You can purchase the items at various stores or work with our experts to personalize a bag for your specific needs. During the course of the weekend, you will learn how you can survive with almost nothing.
This course builds confidence and independence. A must for any hunter, hiker or camper and a great way to give your boy or girl scout some serious real-life experience.
"I guarantee, once you've completed this course, you'll be a different person. Once you tell your friends, they will look at you with a new level of respect… And they will want the confidence and self-reliance they will see in you!"
- Steve Claytor- NFSS Coach.
Cost: $300 per student
(No refunds if you cancel within 30 days of your course date.)
Maximum Class Size = 10 Students
Students under the age of 18 must have signed consent forms from the parent or legal guardian for students under the age of 12, we recommend a private course.
Students under the age of 16 must also be accompanied by a parent or guardian.
VISIT CALENDAR for upcoming course dates .
COMPLETE the WAIVER to get started.